One of the most important things to look for in any sunglasses is do they have 100% UV protection. Everyone likes their sunglasses to fit properly. If the sunglasses are properly fitted, it will allow the lens to breathe around your eyes. More than anything, this will not allow the sunglasses to fog up when air is passing between your lenses and the skin around the eyes. If you are a boater or a fisherman (aka: fishing person) I would recommend looking for an impact-resistant lens, that protects your eyes from all sorts of injuries while fishing or boating.
Got a note from my friends at Costa today - check out there new rimless shades for the summer!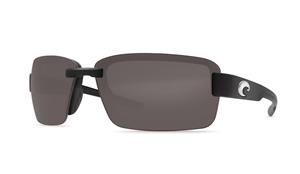 These are three new rimless styles available in Costa's 580P™ lens technology. What's unique about them, though, is the sturdy engineering not usually found in a lightweight rimless style of sunglasses.

"You've seen rimless sunglass styles before, but not with the level of engineering ingenuity placed in these new Costas," said Chas MacDonald, president of Costa Sunglasses. "Even though they're so lightweight, you'll be amazed at the strength these frames have to offer."
Look for my next article coming soon, "Summer Fishing Clothing".
THANKS FOR READING….. Branch
About the author:
Tom Branch, Jr. is a freelance outdoor writer and full time Lieutenant/Firefighter-Paramedic with over 27+ years of service with the Gwinnett County Fire Service in Georgia. He has been working and consulting in the Outdoor Industry for over 17 years and is currently creating and managing a pro fishing team, developing new products, promoting products through demonstrations, designing packaging, and participates in different forums, radio & television shows. Tom and his wife, Kim are supporters and volunteers with Operation One Voice. They live north of Atlanta near Braselton, GA with their two labs "Jake" and "Scout".